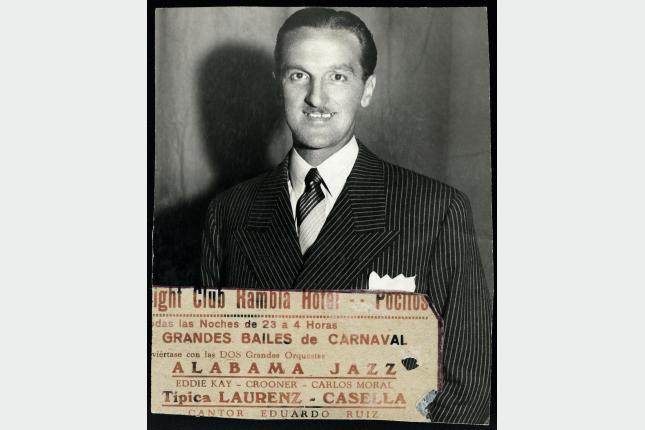 Enrique Campos.
S. f. (Foto: Museo y Centro de documentación AGADU)
1. Ricardo Tanturi / Enrique Campos - "Al pasar" 1943
2. Ricardo Tanturi / Enrique Campos - "Me besó y se fué" 1945
3. Francisco Rotundo / Enrique Campos / Floreal Ruíz - "El viejo vals" 1951
This weeks tanda of valses with the singer
Enrique Campos
comes from Dan Lester from Orlando, Florida USA. Thank you Dan!
Enrique Campos is best known as the other great singer from the
Tanturi
orchestra (besides
Alberto Castillo
) and he also sang for the Francisco Rotundo orchestra and later for the
Roberto Caló
orchestra who was the brother of
Miguel Caló
. "El viejo vals" is one of the most known songs from Francisco Rotundo and is often played in a vals tanda of mixed orchestras. Often with songs from 1950s that are duets like
Biagi
's "Adoracion" (1951) which is sung by Carlos Heredia and
Hugo Duval
. There's a version of "Al Pasar" also by
Lucio Demare
's orchestra and
Raúl Berón
.
If you rather would like to have the complete tanda with Tanturi and Campos then the last song
it could be replaced with for example Tanturi/Campos/Videla - "Tu vieja ventana" from 1945.
Tanturi
, Ricardo -
TOTW
-
Todo Tango
-
tango.info
-
TangoTunes
-
iTunes Store
Campos, Enrique
-
TOTW
-
Todo Tango
-
tango.info
-
TangoTunes
-
iTunes Store
Ruiz, Floreal
-
TOTW
-
Todo Tango
-
tango.info
-
iTunes Store